Notes on a Risograph (Collaborative) Commons: Active Alternative Archives
23.01.2022
There have always been reasons for blue-printing alternative library systems. Independent libraries such as zine libraries or artist book archives often emerge out of a need for representation apart from institutional systems. Therein, independent publishing such as zines, artist's books, and independent magazines remain a social-political tool. They create visibility and platforms for subcultures and identities. Printed matters are carriers of information, and therein, implicated in political and social fabrics. The Risograph is a printing machine that aids these queries by facilitating counter-narratives. This essay explores the Risograph through the lens of independent publishing. The theory and practice of this technology are consistently evolving. The Risograph Renaissance has been set on loop in independent publishing communities and infiltrated education and the art world. The following inquires into notions of ownership, values, community networks and archival tacticssurrounding the Risograph.
To some, the Risograph is more than a machine. It is a Japanese print machine named after its maker Riso Kagaku. It's a stencil duplicator, using soy-based monochrome ink cartridges. A print technique that is similar to screen printing and the copy machine. Originally, the Risograph is an office printer dethroned by the xerox copier. Its allure lies in its sustainability, neon colors, and speed, making this machine an empowering tool for spreading the word and art.
In size, the Risograph printer looks like a grey plastic robot with rainbow buttons. DIY arts and technology communities crop up around this technology. Artists and technophiles congregate, reclaiming the machine for independent publishing, hacking and design practices around the world. Similar to how a copy printed by a xerox machine is sometimes referred to as a Xerox, the popularity of the technique has reached such heights that even a Risograph print is sometimes referred to as a Riso. Over and over again, people delight in the Risograph and feel empowered by its colors and mechanisms.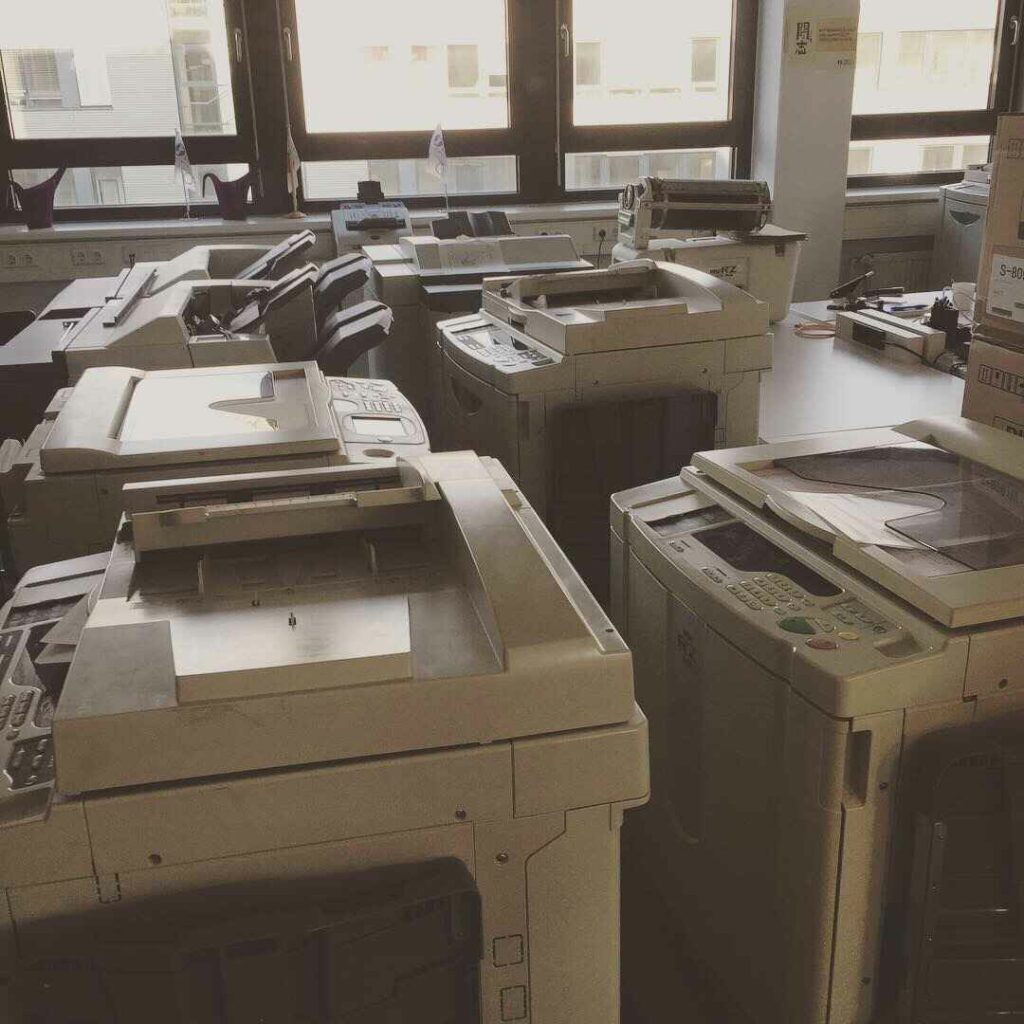 According to John Z. Komurki, author of one of the first seminal books on risography, Risomania, "There are 2 types of people who use the Risograph, those people who use it because of the texture, color, visual personality of the print and there are people around the world who use it largely for the political possibilities"[1]. Furthermore, Komurki notes in his pamphlet Riso as a Tool for Freedom, published by Vetro Editions in Risograph, "Owning a Risograph, as a collective or press, gives you total freedom for the commercial concerns that typically define mainstream cultural output. This, in turn, has meant that the groups typically excluded from or denigrated by the mainstream are drawn to the Riso and the alternative cultural ecologies it generates."[2] The Risograph is a tool for freedom in the sense that it provides an independent means of production. It is self-sufficient.
One of the Risograph's most striking characteristics is the groups of people drawn to it. It is one of the few artistic methods of production, in which the community is not based on competition. On the contrary, Risograph owners pride themselves on circulating the open-source nature of the information, relating to color profiles, machine hacks through Facebook groups, a common Slack account, social media, word-of-mouth, or sharing ink drums. Most of the machines are obtained on second-hand markets. In this sense, it is a community based on interdependency as most of independent publishing practices are. In "No Way Out? Communism in the New Century", theorist and philosopher Slavoj Žižek delineates the marginal cost Collaborative Commons and its enmeshment and dependency on the capitalist market:
"This plummeting of marginal costs in spawning a hybrid economy, part capitalist market and part Collaborative Commons: people are making and sharing their own information, entertainment, green energy and 3D-printed products at near-zero marginal cost; they are sharing cars, homes, clothes and other items via social media sites, rentals, redistribution clubs and cooperatives at low or near zero marginal costs; students are enrolling in free open online courses that operate at near zero marginal cost; entrepreneurs are bypassing the banking establishment and using 'crowdfunding' to finance startup business, as well as creating alternative currencies in the fledgling sharing economy. In this new world, social capital is as important as financial capital, access trumps ownership, sustainability supersedes consumerism, cooperation ousts competition, and 'exchange value' in the Collaborative Commons. Capitalism will remain, but primarily as an aggregator of network services and solutions — a powerful niche player in the coming world beyond markets where we are learning how to live together in an increasingly interdependent global Collaborative Commons (a term that sounds like a clumsy translation of 'communism')".[3]
This ethos propelling the Collaborative Commons can be applied to the communities using the Risograph printer. Printers, technicians, or artists using this machine come together. The common denominator is the sustainability of soy-based ink, affordability on second-hand markets, analog and digital community network, and user-friendly accessibility. These values generate an independence off the radar of its manufacturer company. However, as a representative of the Chicago-based Perfectly Acceptable Press noted in their key note at the biannual This Magical Riso Conference in Maastricht, Netherlands in 2018, "No other medium is contingent on a corporation"[4]. Therein, the independent users of the Risograph must rely on the company to continue manufacturing drum colors, hardware and software. For example, Riso corporate has announced the discontinuation of its masters for the GR machine model. This has lead Risograph studios to buy in bulk and figure out hacks. Though Riso corporate is very excited about the interface artists give their technology and product, this group actually is only a fraction of the market they want to cater to. Instead, the company seems more interested in supporting the mainstream office suppliers, pushing its inkjet printer technology over its stencil duplicating technology. At the This Magical Riso Conference 2018, independent users expressed a wish to work better with Riso corporate and possibly band together as a Risograph user union.
Most Riso studios have active social media accounts and therein, social archives. Though trending on social media, there have only been a handful of books and articles written about the Risograph. The attempts to theorize, mediate, and create an art history of the Risograph is a quite recent phenomena. The first book to attempt a critical theory on the Risograph and put some of its agents on the map was Risomania but to most outside the art and design world the machine remains unknown. Art PhDs, manuals, fairs, conferences have been dedicated to the machine without breaking into to mainstream consciousness of print technologies. Most recently, Spector Books, one of the leading art book publishers, joined the Risograph parade with Exploriso: Low-tech Fine Art. Risography as an artistic printing Process by Sven Tillack with an original Risograph print section by the berlin-based Risograph studio Colorama. This is significant in that it establishes a canon on the Risograph.
Contrastingly, in most zine libraries, you will find an abundance of Risograph printed publications. The vulnerabilities in content mediated in the technology. Nowadays, art exhibitions are trying to be edgy or prove that their message is subversive by printing their catalogues or flyers with the Risograph, with a wink to nostalgic subcultures. However, the Risograph again and again—which is perhaps its allure—defies categorization. Whereas many archives try to digitize their works, the Risograph's analog neon aesthetics never translate 1:1 into scans. In The End of Ownership: Personal Property in the Digital Economy a whole chapter is dedicated to the promise and perils of digital libraries. Digitizing the Risograph like zine libraries would make it impossible to save them:
Harvard and Cornell have taken on similar efforts to collect archives related to the emergence of Hip Hop, and New York University has acquired its own collection of cultural artifacts related to the rise of Riot Grrrl, an underground feminist punk movement in the early 1990s. Such preservation efforts mainly come from secondary collectors, not the original publishers. In fact, in counterculture or low-budget genres such as these, publishers often go in and out of business quickly and are nearly impossible to track down in order to secure various legal permissions. Were these collections held in digital form on now defunct vendor servers or controlled with proprietary vendor technology, it might have been impossible to save them for historical, cultural, and educational purposes.[5]
Therefore, in order to keep these archives alive it is necessary to keep on printing ephemera. Keeping the machines running could be understood as an active form of archival practice. The archiving of Risograph matters takes place mostly in events such as the trade and convening at print festivals, exhibitions, and conferences. One of the first Risofest celebrations took place in Berlin at Urban Spree, a gallery, bookstore and workshop space in 2017. It was then expanded to Paris in 2018, uniting the Parisian risography scene. The biannual conference This Magical Riso Conference at the Jan Van Eyck Academy brings unlikely agents and allies together in person. Many have only been in contact on social media platforms such as Facebook or Instagram. In the 2000s, a Stencil Wiki was used to network as well. What the happening at the Jan Van Eyck Academy really brings to center stage is: risography is no longer the name of the company brand, but the name of its invaluable international artistic community.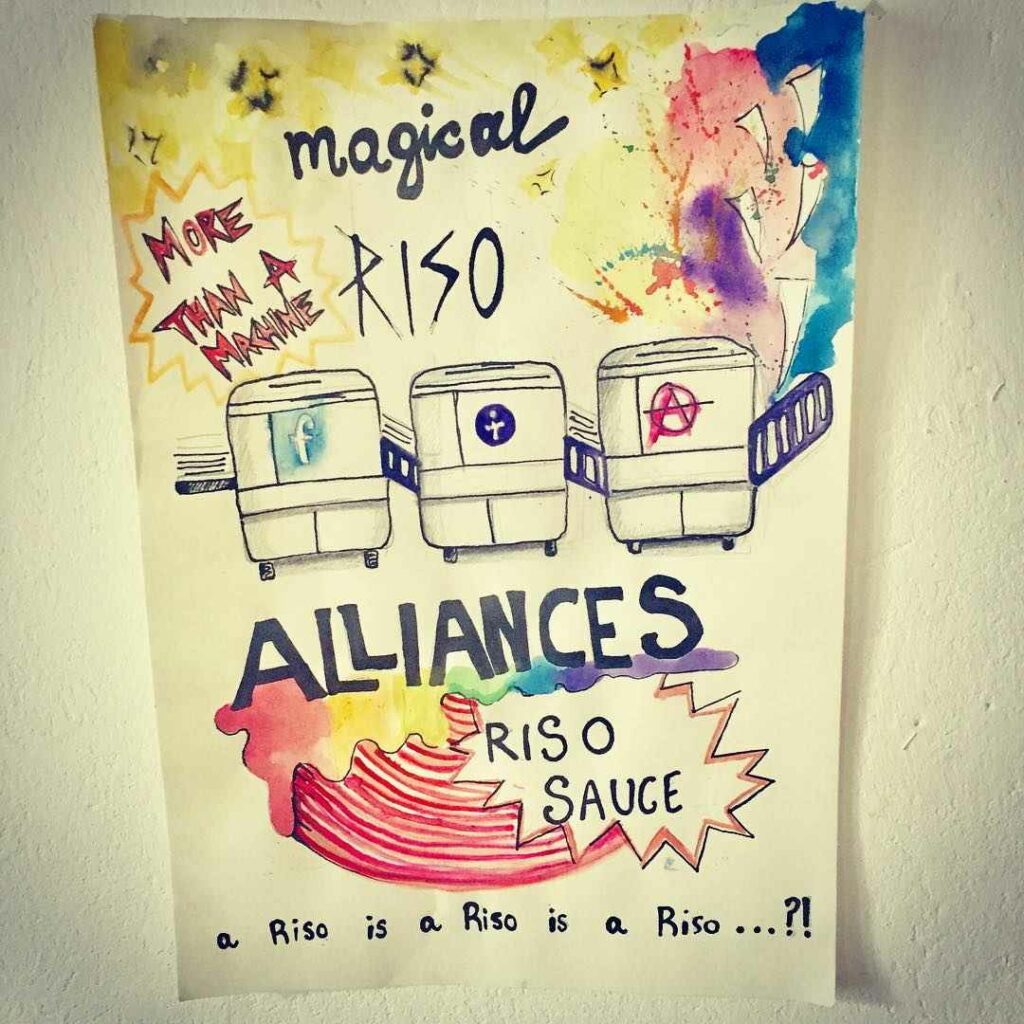 What does it mean that Facebook has an international Risograph studio for its employees and publics, where the company itself is pushing for sleek, cold and digital interfaces, data collection, and algorithms? Quite the opposite of the psychedelic patterns and rough textures and sensuality generated by the Risograph. Should these forces be working together? Or are the arts and corporate identities fundamentally antagonistic forces? Though at these festival and book fair events, the nerds and artists all love and use the same technology to print, their philosophical approaches and relations to the Risograph differ greatly. There certainly are many intersecting types emerging such as entrepreneurs, graphic design studios, artisans, scientists, queer-feminist punks, political protesters, educators, and researchers.
One of the most intriguing features of the Risograph is its duplicating properties. This is what has made it so attractive for activists and artists. Reasonably, there is a way of understanding archiving related to duplication. In Paper Knowledge Toward a Media History of Documents, Lisa Gitelman devotes a chapter to the Vietnam Papers that were leaked by Daniel Ellsberg during the Cold War. She underlines that in the newspapers exposing these duplicated papers, they were referred to as the "Vietnam Archive"[6] and the processes involved in duplicating the original papers led to: "the history was literally reframed for public access"[7]. Though the exposure of these Cold War documents was conducted on a Xerox 914, photocopying is a part of the risography process. Had the Vietnam Papers been photocopied with a Risograph, they would most likely be considered fine art today.
Case Study: Print as Practice
As a case study of how risography epitomizes print as practice, I would like to draw on knowledge acquired through Print as Practice—a series of four roundtable discussions, hosted and moderated by John Z. Komurki and myself in different settings between 2017 and 2018. Selected sections were broadcasted on the radio show Paper & Tape: Audio on Printed Matters. At Haus der Kulturen der Welt, as part of Miss Read 2018, a selected group of print agents from around the world came together to share ideas around the third roundtable. In this discussion, independent publishers shared how they tackle representation in their distribution and publishing houses such as dealing with taboo topics or representing traditionally marginalized groups of people, or lesser-known technologies. Therefore, the subject matter of how to professionalize was the main strategy discussed for empowerment. However, in the same way formalizing a structure or acquiring an ISBN can help to establish the traction of a publishing house, the technology of the Risograph printer speaks to an alternative method. Precisely the DIY ethos of printing is what manifests its powers. Extrapool from the Netherlands does not emphasize ISBNs. Their Risograph print studio has been going for over 25 years with knowledge and equipment acquired for stencil printing. Their independence, in turn, sustains itself through support from art council funding and solidarity. Therein, the publishing house functions in a way as its own cultural and archival platform.
Collectively, these roundtables made visible the mechanics, politics, and value systems on which print agents build their formats, content, and communities. In many ways, these ephemeral discussions served as inspiration for the exhibition Druck Druck Druck. Print communities from Berlin and Beyond in 2019 at the Galerie im Körnerpark, Berlin, where the gallery became a live printing studio for art, education, and community. This served as a platform to further continue the conversation through Risograph workshops, printed art works, machines, and the symposium Books Books (artist's) Books. The Risograph was a focal point and means for production in bringing these agents together. In ever-shifting times on what it means to read and practice publishing, the Risograph is now unquestionably a pillar in the discourse.
When it comes to preparing the files for print, there is no mystery in Riso as the toolbox and reader by 0.00 Design & Risograph ROOM No Magic in Risodemystifies: "Well, this is because the magic wand is in your hands, and as you have not yet cast a spell, this is just a tool about Risograph printing and color separation."[8] However, the machines' outcomes do exude a kind of cultural aura on their makers and readers. Nicholas Thoburn speculates in his Anti Book—On the Art and Politics of Radical Publishing on the notion of the anti-book as a comrade or "communist object" through the lens of Russian Constructivism, in which an anti-book is marked by defying use-values[9]. According to this definition, not all printed matter printed by a Risograph is a communist object—the hipsterization of the machine is too far-gone—however, the printing process itself could find a kinship in this notion. The masters, failed prints, misalignments, water-soluble ink to the touch could all be features of anti-books. Those moments were each print has its own will, and thereby, is a projection-space for fetishization. From a financial point of view, it is impossible to turn a profit printing with these machines, the labor and methods of production invested are invaluable to the outcomes produced. The print artifacts are veritable labors of love. So perhaps in this respect, the Risograph is an aid in creating anti-books and therein, the duplicating print-houses function as alternative anti-book-archives in their own right.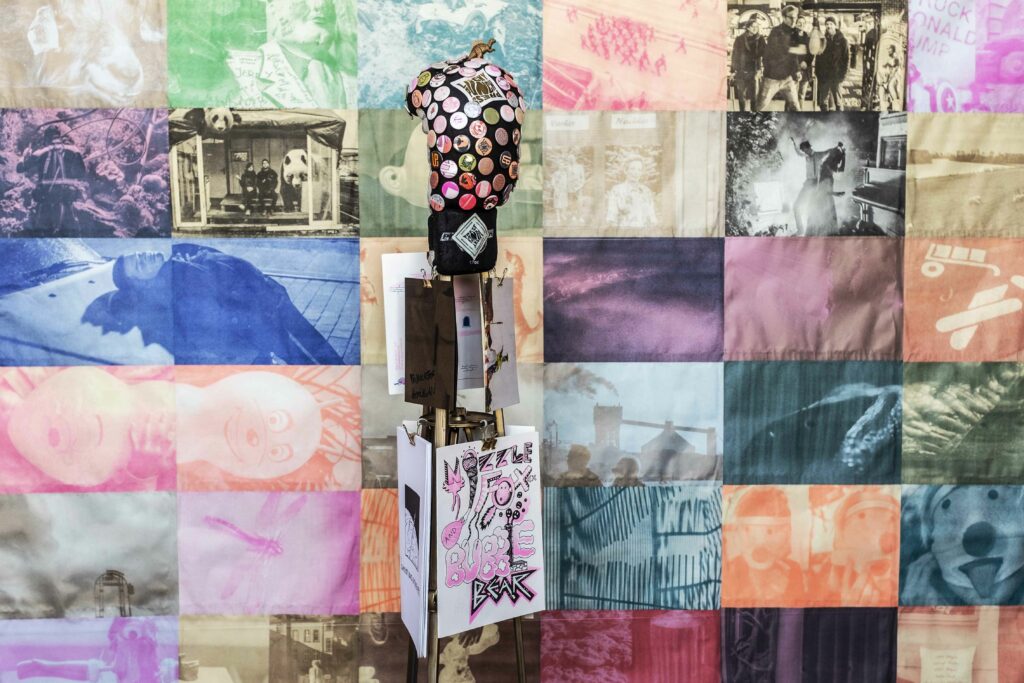 This contribution is published in the framework of the Whole Life Academy.
Lisa Gitelman, Paper Knowledge: Toward a Media History of Documents. Duke University Press, 2014.
Lu Ihwa, Liu Yuxian, Vivian Wang, No Magic in Riso. Taipeh: 0.00 Design & Risograph ROOM, 2019.
John Z. Komurki, Riso as a Tool for Freedom. Berlin: Vetro Editions, 2017.
Aaron Perzanowski, and Jason Schultz, The End of Ownership: Personal Property in the Digital Economy, Cambridge: MIT Press, 2018.
Paper & Tape Podcast. Jungle Tools & Peace Makers: John Z. Komurki: RISO as a Tool for Freedom. https://cba.fro.at/351402, 2017.
Nicholas Thoburn, Anti-Book: On the Art and Politics of Radical Publishing. University of Minnesota Press, 2016.
Slavoj Žižek, "No Way Out? Communism in the New Century", The Idea of Communism 3. The Seoul Conference, Alex Taek-Gwang Lee and Slavoj Žižek (eds.). London, New York: Verso, 2016.