As part of this project, the participating institutions and contributors test new strategies for dealing with archives and their respective archival, research and narrative practices, and work on new procedures and theoretical approaches to working with archives and making them visible.
Team The Whole Life: An Archive Project
Head of Project: Stefan Aue
Overall Coordination: Jessica Páez
Project Coordination: Lama El Khatib, Laura Mattes (on parental leave), Sonja Mattes, Lena Katharina Reuter
Editorial Coordination: Natalie Ruhland
Administration and Guest Management: Anja Dunkel
Concept: Stefan Aue, Lama El Khatib, Laura Mattes (on parental leave), Sonja Mattes, Jessica Páez, Natalie Ruhland in collaboration with the Digital Formats Working Group of the Whole Life Academy
Editors: Lama El Khatib, Laura Mattes (on parental leave), Sonja Mattes, Natalie Ruhland
Postproduction / Video and Sound Editing: Walid Abdelnour
Programming: André Fincato, Marcel Goethals
Digital Formats Working Group (The Whole Life Academy): Priyanka Basu, Ann Harezlak, Megan Hoetger, Geli Mademli, Jacob Moe, Steve Rowell
Department of Communications and Cultural Education (HKW)
Editorial Office: Sabine Willig, Franziska Wegener, Amaya Gallegos, Moritz Müller
Digital Editorial Director: Karen Khurana
Digital Editorial Office: Jan Köhler, Kristin Drechsler, Elinor Lazar, Martin Gajz, Moritz Hoffmann, Anna Leonie Hofmann
Head of Press and PR: Jan Trautmann
Press Office: Lutz Breitinger, Lilli Heinemann
Public Relations: Christiane Sonntag, Sabine Westemeier
Documentation Office: Svetlana Bierl, Marlen Mai, Josephine Schlegel
Inhouse Graphics: Bárbara Acevedo Strange
Haus der Kulturen der Welt
John-Foster-Dulles-Allee 10
Telefon +49 – (0)30 – 397 87 – 0
Telefax +49 – (0)30 – 394 86 79
Haus der Kulturen der Welt is a business division of the Kulturveranstaltungen des Bundes in Berlin GmbH (www.kbb.eu)
Prof. Dr. Bernd Scherer (Director Haus der Kulturen der Welt)
Mariette Rissenbeek (Director Internationale Filmfestspiele Berlin)
Charlotte Sieben (Managing Director, KBB GmbH)
Chairwoman of Supervisory Board
Claudia Roth MdB
Minister of State for Culture and the Media
Amtsgericht Charlottenburg
Sales Tax Identification-Nummer under § 27 a of the sales tax law
Responsibility for the content lies with HKW, director's office in consultation with the institution's communication department. Person responsible according to § 55 Abs. 2 RStV Stefan Aue, John-Foster-Dulles-Allee 10, 10557 Berlin, stefan.aue@hkw.de
We have made every effort to obtain all rights of use for the publication of third-party materials. If, in individual cases, usage rights have not been clarified, please get in contact.
Haus der Kulturen der Welt is supported by the Minister of State for Culture and the Media as well as by the Federal Foreign Office.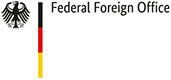 Despite careful scrutiny, the editors do not guarantee correctness, relevance or completeness of the information published on this website. Possible material or non-material damage resulting from the usage of the offered information may not be put in a claim against the editors. Editors reserve the right to change the website as a whole or to some extend without prior notice or to stop publishing entirely
External websites linked with our offer of information are not to our responsibility. Even if external links have been checked at the time of linkage we do not have any impact on subsequent changes of addresses or contents. Illegal or deficient content and information on such external websites are solely subject to liability of the website provider.