Studio Baalbeck – An Emerging Lexicon
05.02.2022
Studio Baalbeck was a film production company active in Beirut from 1962 to 1994. Its archive was rescued by Monika Borgmann and Lokman Slim of UMAM[1] in 2010, and has since been researched, restored and cared for by a dedicated team[2]. Yet, this archive is still amass with undiscovered and 'perverted' material, a collection of which is being viewed for the first time as part of the Whole Life Academy workshop The Perverted Archival Image[3]. Following the notion of "Archives not as sites of knowledge retrieval but as sites of knowledge production"[4], the workshop participants have been given the opportunity to not only view but also expand upon this material through collective production.
Starting from the question of how local narratives, archival objects and biographies contained within archives can be made legible for today, the construction of this lexicon is a tool in attempting to make legible the unknowns of Studio Baalbeck Archive, whilst also deconstructing the already existing rich dictionary of the archive's memory and meaning in the larger context of Lebanon and its film history. The lexicon is built from the perspective of accessing and observing the archive for the first time. The descriptions that follow each term are crafted from the knowledge, memories, insights and narratives shared in the workshop by the tutors and guests, as well as the immense research already carried out by the UMAM team in Beirut.
The words and accompanying images take a patchwork form, avoiding chronology and order out of respect for both the inevitable caveats in an archive and an archive's power to have meaning across multiple spheres of time. Within the gaps of the patchwork lexicon, scribbled questions sit patiently.
As images on a film strip slowly reveal themselves in the lab, the current state is just one mark in an emerging lexicon.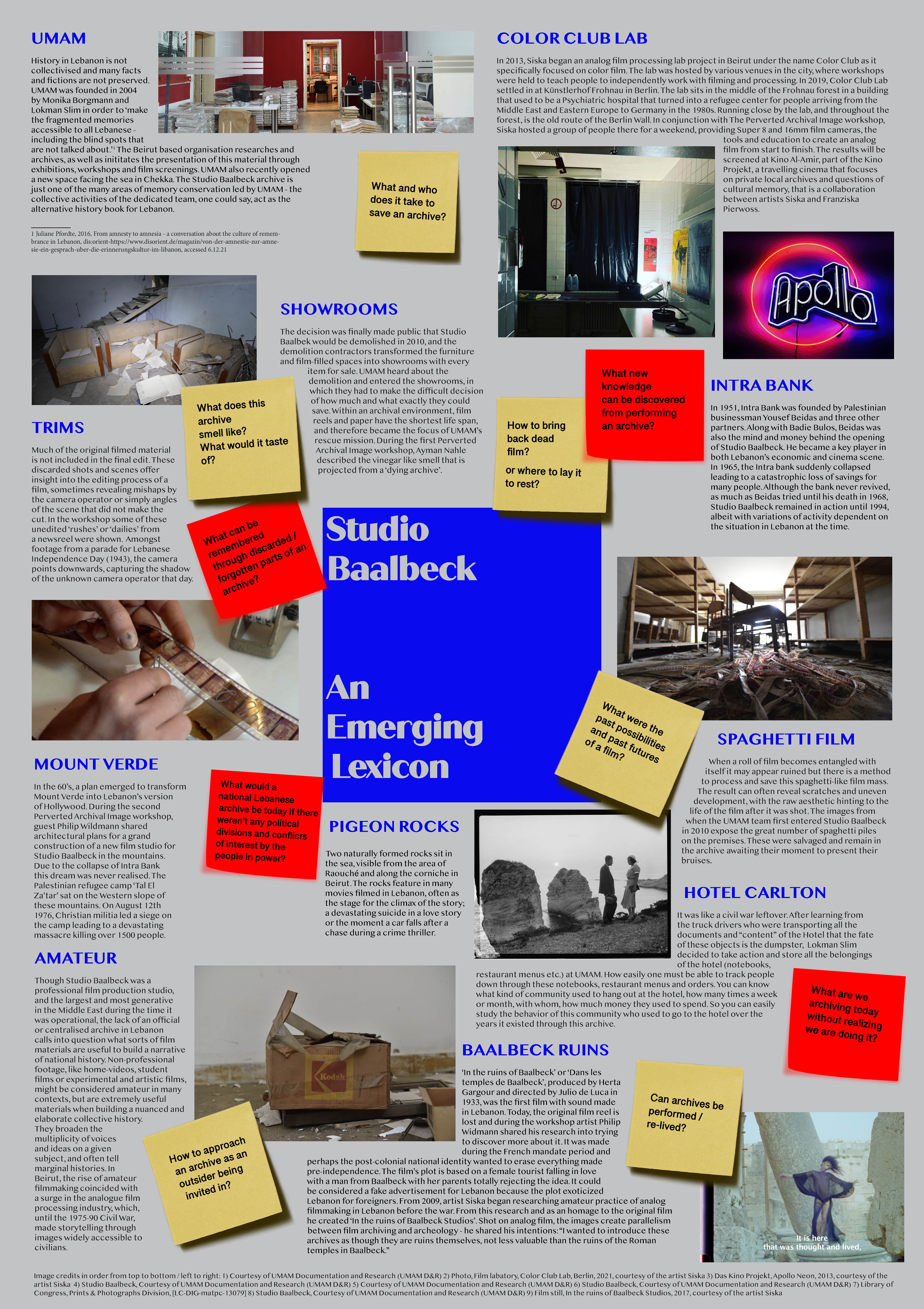 This contribution is published in the framework of the Whole Life Academy as part of the workshop "The Perverted Archival Image".