On a Horizon of Contingent Truths: A Conversation with KANG Sang-woo
31.03.2022
KANG Sang-woo is a filmmaker based in Seoul, whose works range from fictional short films to feature-length documentaries which weave together poetical and political explorations of the lives of marginalized communities in Korea. Observant yet imaginative, KANG's films reflect on society's past and present by following the lives of various protagonists, such as a young man who ends up in jail for objecting to join mandatory military service in A Silk Letter (2010); an ex-convict in Clean Me (2014); and a civilian soldier from the 1980 May 18 Gwangju Democratization Movement (also known as the Gwangju uprising, May 18, or simply 518) in KIM-GUN (2019).[1] As KANG's first feature documentary, KIM-GUN ('Kim' is one of the most common Korean last names and 'gun' is a title equivalent to 'Mr', typically used when addressing a younger man) searches for the identity of the unnamed young man and at the heart of this investigation lies a black-and-white photograph of a figure on a military truck taken by photojournalist Lee Chang-Seong in 1980.
The film unpacks how the man in the photo is, on the one hand, remembered as a ragpicker and a fellow civilian soldier 'Kim-Gun' by the survivors of Gwangju uprising, but he is also identified as a member of the North Korean special forces unit dispatched to Gwangju to mastermind the 'riot' against South Korea's military government by a right-wing political columnist Ji Man-won and his conservative supporters. To examine the political and ideological controversy which erupted with Ji's conspiracy theory in 2015, the documentary embarks on a journey by way of answering one question after another: Why did a nameless young man join the civilian militia in the first place? Why did he take up arms? Where did he go afterwards? KIM-GUN thus builds on an extensive collection of both public and private footage, documents, and interviews with more than 100 survivors, demonstrating what historian Jihoon Kim describes as 'an archival turn' in Korean independent cinema.[2] In my conversation with KANG, we discusses how KIM-GUN treats historical evidence and testimonies as a 'horizon of contingent truths' with the potential to be pieced together in alternating ways, touching upon the complex dynamics of archives and life stories, collective memory and amnesia, the mechanisms of image-making and history-writing.[3]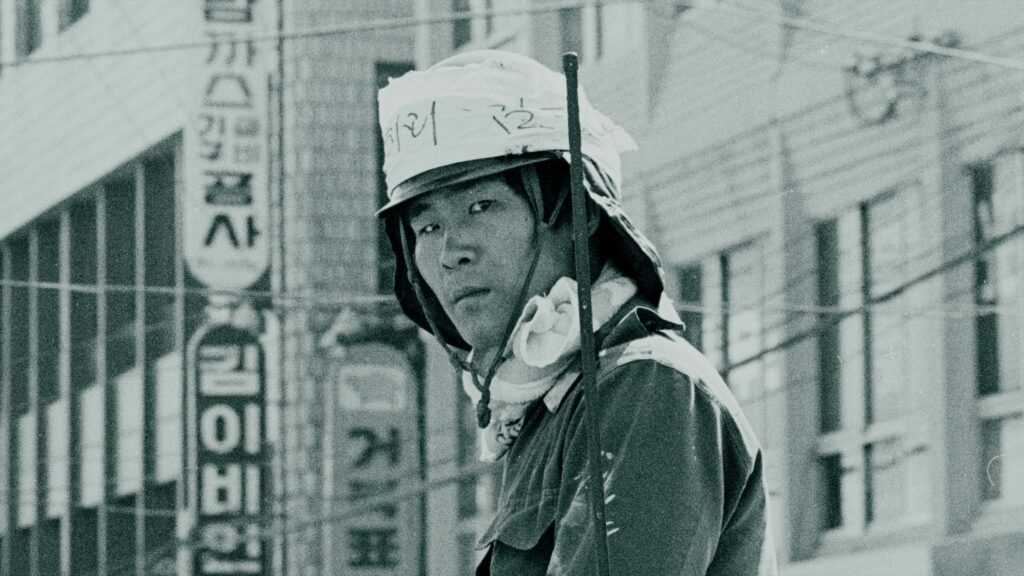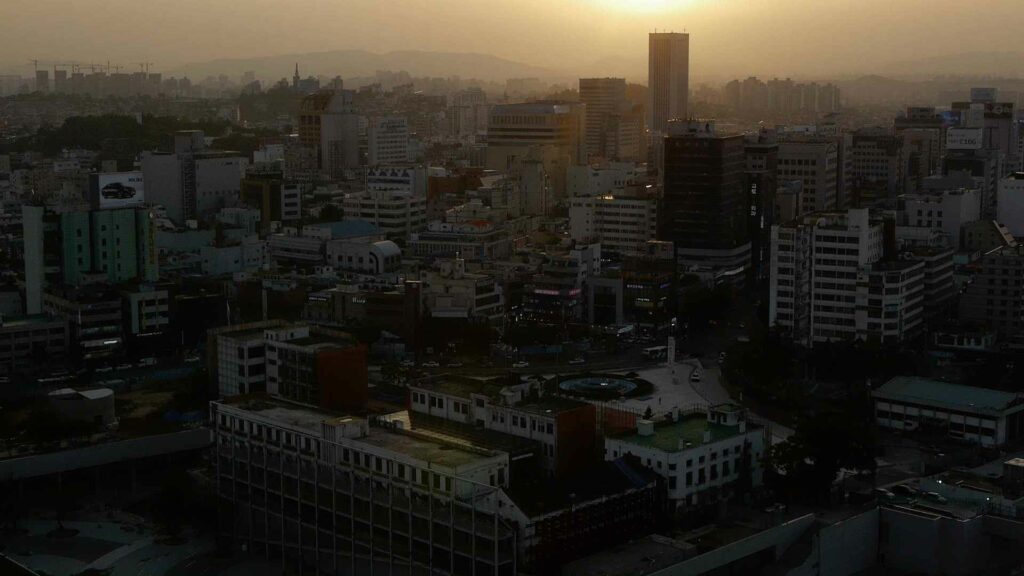 Sooyoung Leam: More recently, your films have been shown outside of cinemas and film festivals, fluidly entering into the spaces and discourses of contemporary art. I am thinking of examples such as Forest Neighbor (2021) commissioned as part of the latest edition of Seoul Mediacity Biennale or Like We Are Not Here (2016) presented at Total Art Museum, Seoul. Are there any differences in your approach or expectation, when you present your films in these different contexts?
KANG Sang-woo: Unlike the piece I produced for the Seoul Mediacity Biennale, I worked on KIM-GUN and Like We Are Not Here thinking of them as films to be shown in cinemas. KIM-GUN first premiered in commercial movie theaters and, although it's an independent film, it was screened at 70 different places. I wanted KIM-GUN to appeal to the general audience as a feature-length documentary and this ultimately determined the length, structure, and style of the final outcome. Although it is a documentary, priority was given to telling a compelling story throughout the entire length of the film. This idea was shared between myself and the production crew from the very beginning.
In terms of producing works for exhibition contexts, there are elements which I am not entirely satisfied with because I am used to screening my works in cinemas. Poor sound systems would be a good example. But the idea of exhibitions as open spaces where new forms of interaction besides cinematic immersion can emerge is quite liberating. In these occasions, I can express; I am less concerned about linear storytelling. In the case of the Mediacity Biennale, conversations with the artistic director and curators were an integral part of conceptualizing and producing the film and that process was new to me.[4]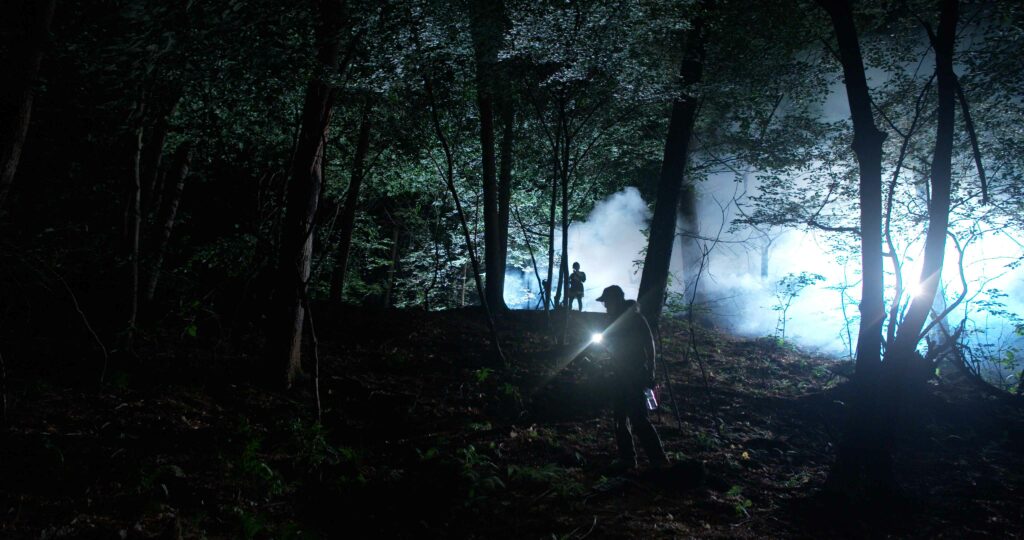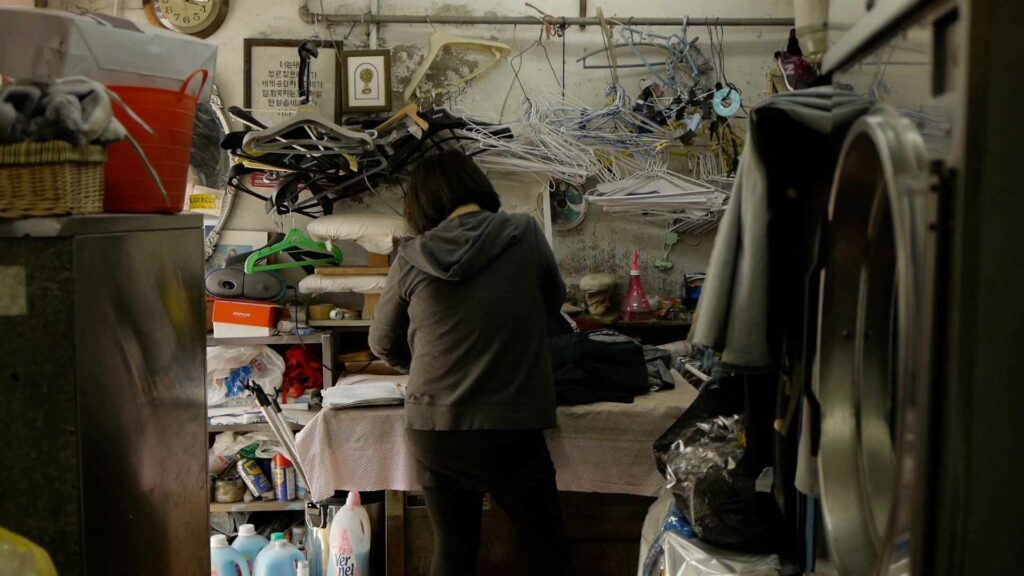 SL: I first came across KIM-GUN while preparing for the Gwangju Biennale Foundation's special exhibition for the 40th anniversary of the May 18 Democratization Movement in 2021 and later Like We Are Not Here (2016). This 11-minute film, which reads like a sequel to KIM-GUN, portrays the quotidian everyday life of Gwangju citizens today. You then subsequently published Searching for Kim-Gun (2020), a meticulously documented publication composed of archival and factual findings you discovered while working on the film. What motivated you to work on the subject of Gwangju in these various forms?[5]
KS: The first time I went to Gwangju was to videograph the 100% Gwangju project by Rimini Protokoll.[6] Separately from that work, we shot footages of the daily lives of the people in Gwangju we got to know there and these footages from 2014 became a part of Like We Are Not Here. The city is rich with various commemorative memorials and institutions related to the Gwangju uprising, but I couldn't relate to them at all. Instead I turned towards the people living in the city, trying to focus on a network of connections emerging out of trivial moments and the inconsequential actions carried out by them. That became the vital source of my film. The kind of cinematic rhythm I prefer is actually closer to Like We Are Not Here. Joo Ok, the owner of a dry cleaner's who also appears in the film, worked with us for about a year and it was on one ordinary day in 2015 that she pointed out a picture of Kim on a 'pepper fog' truck displayed at the May 18 Archives and recalled him as a ragpicker 'Kim-Gun' who joined the civilian militia back in 1980.[7] Around the same time, the far-right conservative Ji Man-won was beginning to publicize his allegations about the intervention of North Korean forces into the uprising, identifying the same figure as the 'No. 1 Gwangsoo'. At that moment, I realized a work about this issue had to be done.
I actually tried to stay away from anything related to the uprising, but the moment Joo Ok reclaimed her memory of the unnamed young man was so powerful that it sparked my curiosity. Her recognition seemed to breathe new life into history, which appeared to have fossilized a long time ago. Leveraging this curiosity, I embarked on KIM-GUN in 2015 and worked on it for four years. After the premier, Kang So-young, an editor at Humanitas Books, suggested publishing a comprehensive source book including the testimonies and archive materials that had to be edited out of the film. I decided to work on this project with a sense of obligation to record the words of the survivors as best as I could. Many survivors helped us while filming, and we understood well enough that what motivated them to help was the shared recognition of the importance of continuing the research on the Gwangju Democratization Movement. This is why we partly regarded their testimonies and private archival materials as public resources to be shared with other readers and researchers.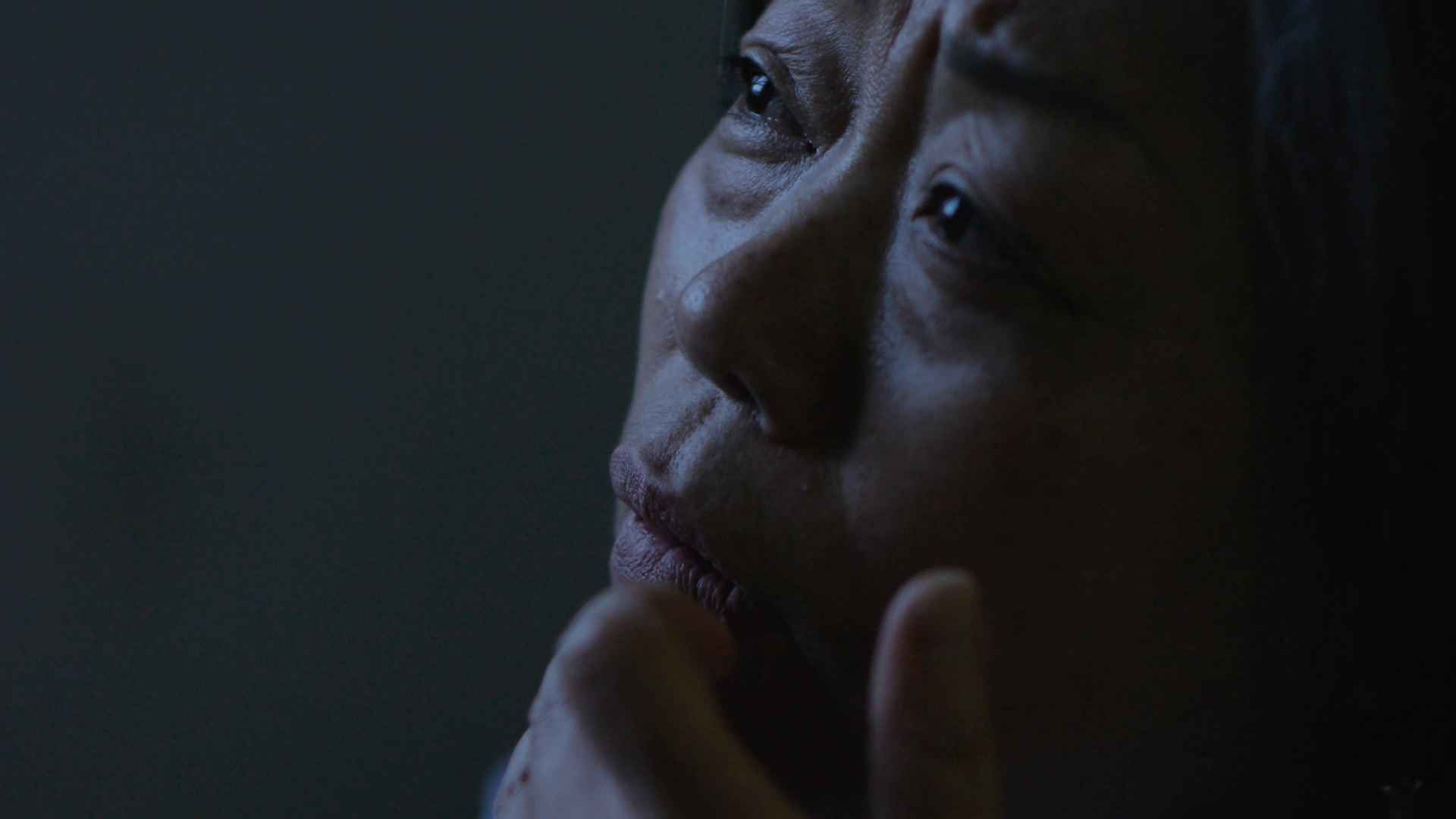 SL: I found the publication particularly interesting because it demonstrates how the production of KIM-GUN not only involved tapping into memories of the survivors and the uncovering of existing archives, but simultaneously a gradual build-up of an entirely new collection of records. How did you navigate this intertwined process of excavating and generating archive materials?
KS: The Complete Collection of the Historical Materials on the May People's Uprising in Gwangju [hereafter referred to as Collection]published by the Center for Research on Contemporary Korean History is a heavy tome consisting of records gathered directly from the testimonies of thousands of people who experienced the uprising first hand.[8] We've talked to some of the people who have participated in the Collection, among other primary sources. If the Collection is like a standard work of oral history with emphasis on faithful documentations of the witnesses' accounts, our approach differed in that our questions were directed towards this unnamed man in the photograph. Many of the survivors we interviewed were teenagers at the time and about 90% of them were aged somewhere between 16 and 24. I was also curious to learn what their lives were like before the uprising. We talked about the kind of music they listened to and what a typical day looked like. Unless the survivors wanted to, we did not necessarily ask them to recount their experience of the uprising.
Their role was similar to that of a witness, I would say. We began by asking 'do you know this person by any chance?' and started collecting every little detail or vague memory the survivors would share about Kim-Gun. It was important we didn't burden them to relive their traumatic experiences. One exception to this was Choi Jin-soo [who was asked more direct questions]. As we approached the survivors with the purpose of recovering the traces of Kim-Gun, even those who had previously shared their testimonies at other interviews offered new insights.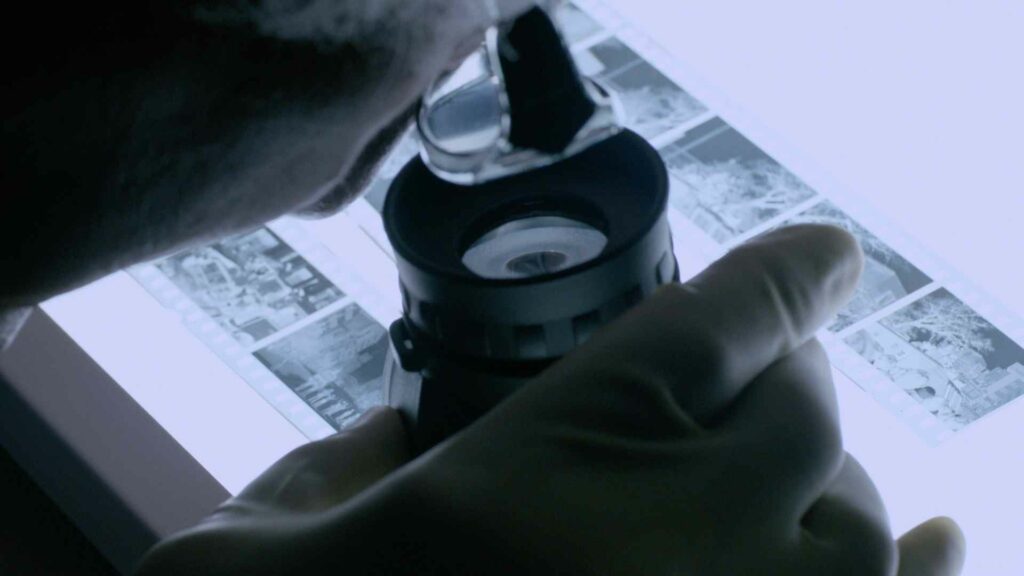 SL: What were some of the criteria you had in mind when editing the film? I'm curious to know about the scenes which didn't make the final cut and why.
KS: As the documentary is primarily about searching for the unnamed man in the photograph taken by photojournalist Lee Chang-Seong, I tried to include accounts of the witnesses who offered meaningful clues and memories about the figure in the photograph. Not many people had interacted with Kim-Gun directly at the time, but I didn't necessarily regard these difficulties as hindrances. The course of searching for Kim-Gun naturally turned into a process of learning about the young, armed civilian soldiers who fought against Chun Doo-hwan's military crackdown – their motivations, lives, and feelings – yet remained marginalized from the discussions about the Gwangju Democratization Movement. Towards the end of the production, I was editing the film to convey the various layers of the survivors' lives and their accounts.
I certainly didn't want the film to be about checking facts. It was important for me to attend to the life stories of the survivors who lived through the uprising and its aftermath, and even touch upon the issues of social exclusion. We interviewed around 100 survivors for KIM-GUN, but from the very beginning we were aware of the limits posed by a feature-length film. The publication plays an important role in this sense, because it documents a lot of the materials excluded from the film. Together with the documentary, I hoped the book would help us overcome obstacles that have prevented us from understanding the realities of the uprising in full, such as unfounded rumors caused by the lack of opportunities given to the survivors to speak about their experience or the overwhelming sense of guilt shared by the '386 generation' (which refers to the generation of Koreans born in the 1960s who attended universities in the 1980s and who were very active politically in their thirties) depicted in films like A Petal (1996).[9] I am less interested in making claims about the extraordinary solidarity or collectivism of the civilians demonstrated during the uprising, which have often been made. Instead, I am drawn to the odd looks captured in the photographs; the elated looks on young men's faces that can't be simply summed up as photographic evidence of the uprising. They are often found in B-cut images that never made it to the press.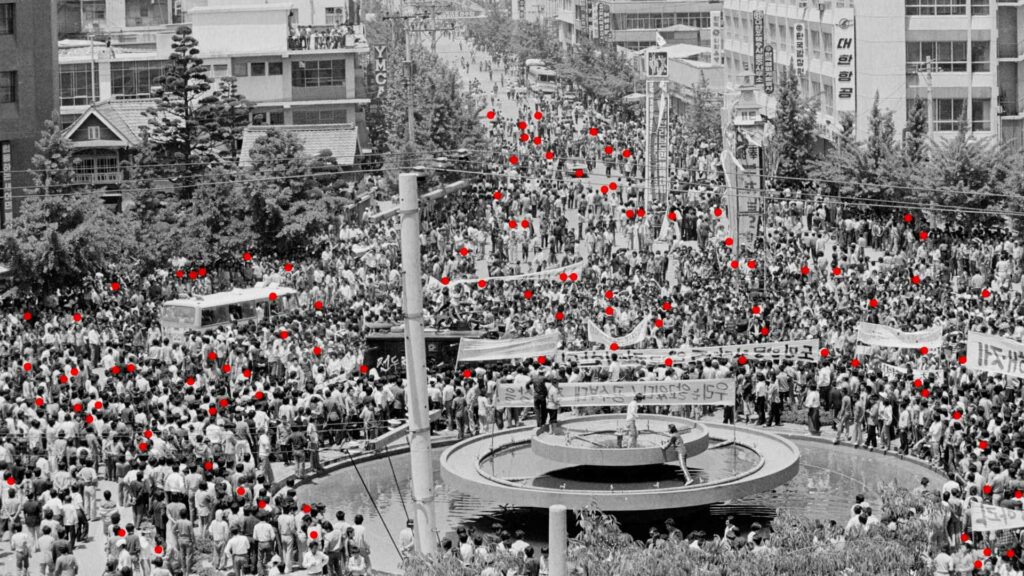 SL: Whereas films about the May 18 Democratization movement often deal with intense anger, guilt, and grief, KIM-GUN sets itself apart by taking an entirely different approach to the past. The documentary renders visible how traumatic events like the Gwangju uprising are commemorated, contested, and written into history by way of its search for Kim-Gun. It is interesting that the film's quest to find the unnamed man began with Joo Ok's chance encounter with the photograph at the May 18 Archive. How does the accidental play a significant role in your works, including KIM-GUN?
KS: It's always exciting to encounter scenes we didn't plan during the shoot. Ever since I started making short films, I've maintained a process of utilizing chance encounters as much as possible. I included these moments of error, coincidence, and serendipity as important parts of the film that can alter the course of the cinematic narrative. Although I sometimes work with a director of photography, I actually enjoy working with the camera myself, especially when I can capture these unforeseen moments. But I am gradually coming to realize that what I experience behind the camera might not be conveyed in full to the audience. For instance, a completely unplanned scene might appear thoroughly staged and, conversely, a meticulously planned scene might end up looking spontaneous. It's therefore difficult for me to say that I have a preferred methodology when it comes to filmmaking.
SL: In one of your earlier interviews, you used the expression 'moments of slippage'. Could you apply this to the situations you just described?
KS: I believe I used that expression when I was talking about interviewing Kim Yong-gyun for KIM-GUN. When he was interviewed back in 1989 by the Center for Research on Contemporary Korean History, he recalled that he 'went into the government building riding a pepper fog vehicle'. Our production crew and I decided to meet him to inquire further about that particular experience of his, but when we met Kim in 2016 (27 years after the interview with the Center), he couldn't remember the testimony he had shared then. However, when we showed him a picture of civilian soldiers, his face suddenly lit up and he recalled how 'fun' it was to ride that vehicle with other civilian soldiers. He also commented on how good he looked back then. Although our interview with Kim didn't unfold the way we had anticipated, it was worth capturing his animated face, that moment when his eyes sparkled with joy. I try to bring these moments to light when I edit.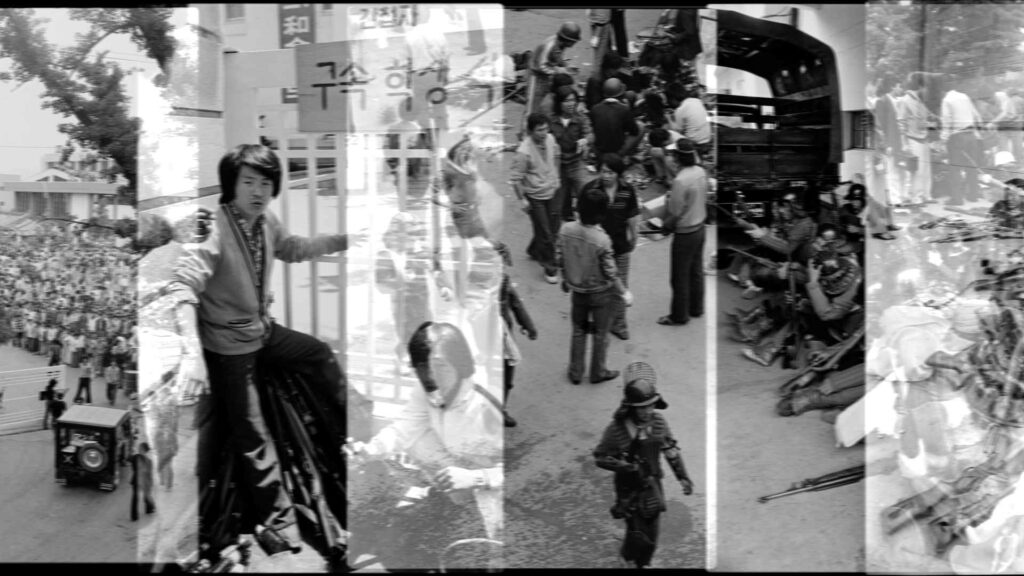 SL: In many ways, KIM-GUN reminded me of Trinh T. Minh-ha's pursuit of 'speaking nearby', rather than 'speaking about' materials that lie beyond one's own experience. [10] Rather than objectifying the subject, your documentary felt like it was constantly trying to 'speak nearby' the Gwangju uprising through multiple and, at times, even conflicting voices of the people. Would you say this approach is also reflected in the way you frame the camera's point of view?
KS: I think so. I actually shot KIM-GUN envisioning it more like an investigative film similar to All the President's Men (1976), which is about a group of Washington Post journalists investigating the Watergate scandal. That's why our assistant director appears in front of the camera as a representative of the production team, conducting interviews with the survivors. When it came to filming those conversations with the survivors, however, all I did was set up a camera at a distance and create an environment where they could comfortably interact with each other. Questions were prepared prior to the shooting but, once the interviews began, I avoided intervening as much as possible to maintain that safe distance.
Many of the people we interviewed mentioned how long it had been since they last had their spoken accounts recorded by someone. After watching KIM-GUN, someone from the '386 generation' even described the experience of witnessing the survivors speak as uncanny, because they are so rarely given the opportunity to vocalize their experience as civilian soldiers during the uprising. For that generation of people, the Gwangju Democratization Movement has already become a distant, fossilized past; a subject ready to be appropriated by mega-hit movies like Taxi Driver (2017). In this sense, the kind of proximity KIM-GUN establishes with the survivors, listening to their stories in their own voices, could relate to the idea of speaking 'nearby'.
SL: Speaking of generations, did your identity as an 'outsider' of Gwangju, not having experienced the uprising at first hand, pose any difficulties in accessing certain materials or asking for local cooperation?
KS: The entire production team lived in Gwangju and we worked very closely with the survivors. They were actually eager to help, because we were different to the journalists who would visit the city every May only to report on the commemorative ceremonies and leave. There is a community of young filmmakers based in the city as well, but they don't necessarily like to engage with the history of the uprising. They are wary the city might be restricted to that history alone. But even then, the community was tremendously supportive of the project.
SL: One of the unique features of KIM-GUN is that it brings to the fore two conflicting views of the identity of the unnamed figure to the fore, working as a representation of the acute ideological conflict we currently encounter in contemporary Korea and not opting to assert one view as the truth over another. For instance, while dedicating a great length of time to listening to the survivors' testimonies, you also include footage of Ji Man-won publicly claiming that North Korea had secretly sent troops to Gwangju to instigate the 'riot' against South Korea, identifying over 100 survivors as the members of the 'special force', based on what he describes as an image-analysis system. (The system, according to Ji, is facial-recognition software that matches the physiognomic traces of the faces depicted in the photos taken in 1980 with those of the surviving citizens. He argues the fact that they were survivors of the government troop's crackdown during the uprising is evidence that they had been dispatched by North Korea.) Why was it important to take this particular approach?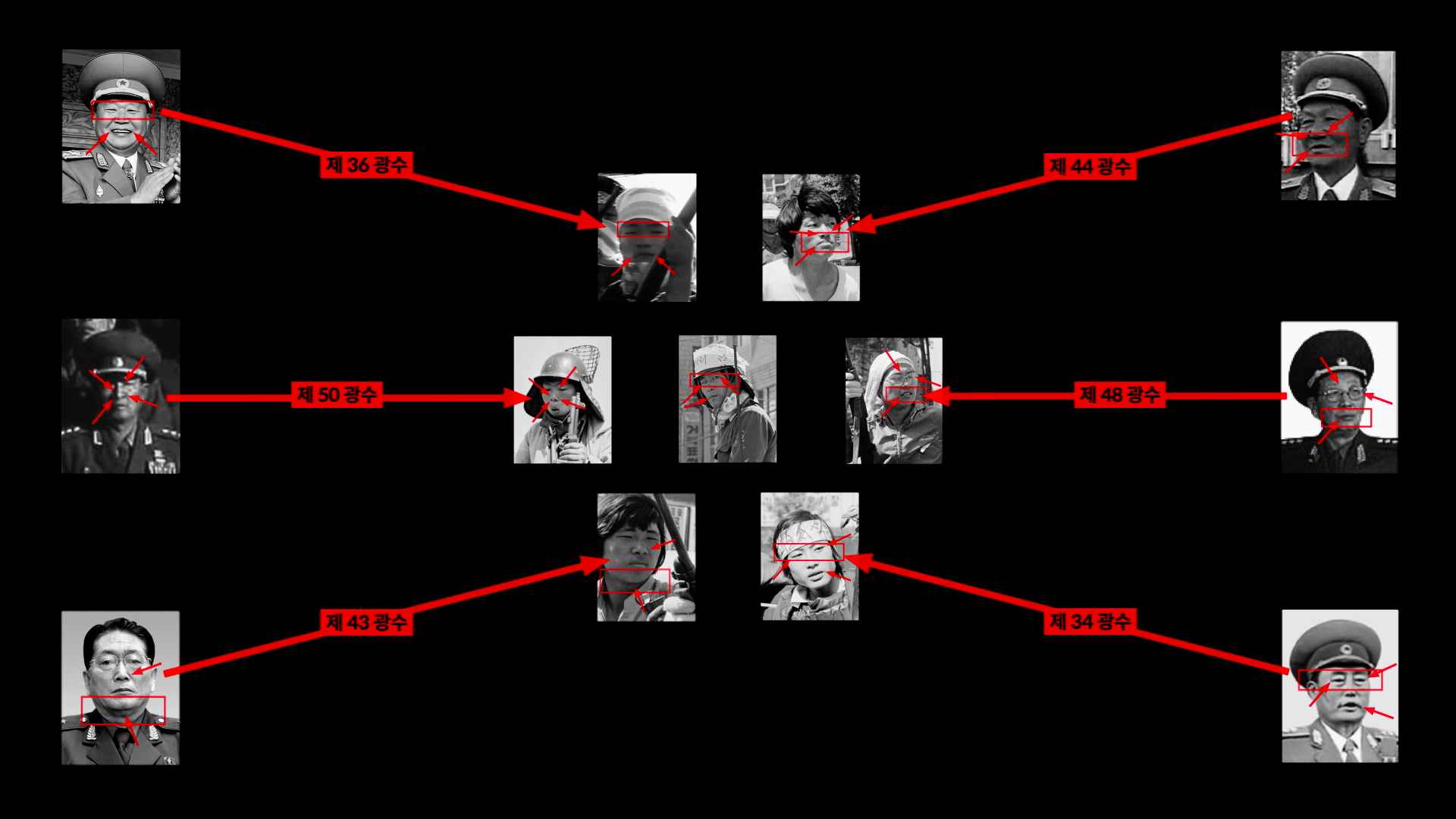 KS: At first, I was curious to explore what gave Joo Ok her conviction and certainty when she recalled Kim-Gun from a picture. We had also visited the Mangwol-dong Cemetery (where the civilians massacred by the Chun Doo-hwan government are buried) with Joo Ok the year before in 2014, but she couldn't remember anyone from the funerary portraits found on the tombs. She is not someone who would say she recognizes a person out of vague likeness. Joo Ok's moment of recognition was certainly the most important impetus for producing KIM-GUN. Similarly, through conversations with the survivors I became more invested in exploring the dynamics between what has been said already and what remains unspoken. What could be said now that couldn't be said in the past (for example in 1989 when the first official hearing for the Gwangju Uprising took place)?
I found Ji Man-won's arguments equally intriguing. I explained this in more detail in the publication, but many audiences who walked into the cinema without any prior knowledge of Ji Man-won's claims actually believed that he used facial-recognition software based on the computer graphics we added to the images. Almost four years has passed since the release of KIM-GUN and we live at a time when deep-fake imaging technology has advanced to the point that a virtually generated human figure bears an uncanny resemblance to a real person. In this light, I was compelled to imagine what it would be like for a scientist to make the same kind of argument as Ji, but claiming that the conclusion was drawn from a scientifically proven technology. You could almost view it as a clash between scientifically induced results and imperfect human memories. My argument would be that neither of them are perfect or complete.
Shortly after filming KIM-GUN, I started working on my Master's thesis on Shohei Imamura's A Man Vanishes, which belongs to the genre of cinéma vérité. In my writing, I quote Linda Williams and I find her words capture my approach to documentary film most succinctly. She writes, 'Truth is "not guaranteed" and cannot be transparently reflected by a mirror with a memory, yet some kinds of partial and contingent truths are nevertheless the always receding goal of the documentary tradition. Instead of careening between idealistic faith in documentary truth and cynical recourse to fiction, we do better to define documentary not as an essence of truth but as a set of strategies designed to choose from among a horizon of relative and contingent truths'.[11] Her idea that the strength of cinéma vérité lies in its ability to piece together imperfect fragments of truths in alternating ways, and sharing that process with the audience resonates with me the most. Precisely because of the tremendous power journalistic documentary yields, I couldn't help but stay conscious about that while working on KIM-GUN.
SL: In another interview, you point out that archives are often on the perpetrator's side. Indeed, your film is a demonstration that archival documents or objects are more than neutral and objective indexical evidences of the past, and that they are open to reinterpretation in dialogue with the present. The entire process of searching for Kim-Gun's identity prompts us to question the underlying principle and concept of the archive as an ordered signification of the past.
KS: I am becoming more aware of my role as a documentary filmmaker, the way I utilize historical and personal records and the kind of effect it has on the surviving victims. For instance, people pay for the ticket to watch KIM-GUN and, as you know already, you pay for copyright fees to reproduce archival photographs. This common transaction that we exercise feels problematic when I meet the survivors. Of course, photographers and filmmakers need to have their creative rights recognized, but what about the portrait rights of the survivors? This is an issue that is rarely addressed. It's important that events are recorded in one way or another, but it's also true that these images commonly take on a greater significance and value as documentary evidences than the actual lives and realities of the people they capture. The next step should be calling on the government to offer adequate compensations to the survivors of the Gwangju uprising.
This contribution is published in the frame of The Whole Life Academy.